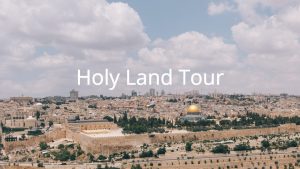 On this 10-day exploration from February 19-28th, you will walk in the footsteps of Jesus from the northern parts of the Galilee – Tel Dan, Caesarea Philippi – to the area around the Sea of Galilee to Bethlehem, Jericho and Jerusalem. Qumran, Masada and a visit to the Dead Sea are included in this unique itinerary. Your first night will be on the Mediterranean Sea in Netanya followed by nights in downtown Tiberias and in Jerusalem. Also included are visits to Yad Vashem (Holocaust History Museum) and the Israel Museum.
Meeting May 9, 2018 Recording Below:
Israel Information Meeting from FUMC Durango on Vimeo.
"I invite you to join me on this Bible Land Exploration program that will expand our knowledge of the Bible and this sacred land. A journey following in the footsteps of Jesus will change the way you read the Bible, and you will learn why scholars refer to the Holy Land as the "Fifth Gospel". Please consider this brochure my personal invitation to be a part of this adventure in faith and join me in experiencing a once in a lifetime journey as we see the Bible come to life!" – Pastor Jeff Huber
Download the Introduction Meeting Packet Here:
Holy Land Meeting Pamphlet
Meeting September 30, 2018 Recording Below:
If you have not done so, send EO a copy of your passport. They cannot issue your airline ticket without this. You can take a picture on your cell phone and email it.

 

eo@travelwithus.com

 

Or mail a copy:

 

PO Box 6098, Lakeland, FL 33807.

Make sure EO has your correct departure city e.g., passengers departing from Durango. Check with Georgene if you need to verify the departure city EO has on file.

EO can arrange for your flights regardless of departure date.

   

We will depart from Newark OR JFK. We won't be ticketed until about 30-60 days prior to departure.

Deadline to register for trip or Nile River extension is November 1.

Next payment due:

$1,200 by 11/6/18 (PLUS Travel Insurance payment of approx. $399 due at this time)

Balance by 12/6/18
Meeting December 16, 2018 Recording Below:
Meeting January 27, 2019 Recording Below:
At the 60-day mark, EO sent an email with links to videos about the history and geography of Israel. The videos are very well narrated and will provide valuable background for our pilgrimage. Below is a link to the videos.
Download the labeled map and daily schedule here:
Holy Land Tour Map and Schedule Descriptions
Holy Land Tour Map and Schedule Descriptions (with Scripture)
Download the pamphlet for this trip here:
Bible Land Exploration 2019 Pamphlet