In-Person Worship Services
April 16th @5:30pm
April 17th @9am and 10:30am
Worship with Hymns, Liturgy, Organ and Choir
Please join us for Ash Wednesday at Summit Church on March 2nd. Ash Wednesday is the beginning of the season Lent, the 40 days and 7 Sundays before we get to Easter. Join us in-person or on live-stream at 7pm for a special service. The service will also be available to watch anytime later in the day on any of our platforms. If you do not or cannot attend the service in person, you may drive by between 12 and 1pm to receive ashes in the South parking lot, in front of the Summit Church sign. We can't wait to see you. If you cannot join us in-person for Ash Wednesday do not despair. We have this video posted below so you can join us from home.
The Ash Wednseday Service is also available on our 
youtube
page.
Our Maundy Thursday Service will be starting at 6pm on April 14th. There will be hymns sung by our choir, a time of reading and response lead by a liturgist. This will be a service based on prayer and reflection. We will be posting a video of the service below and on our YouTube page for those that cannot attend in-person. This video will go live starting at 6pm on April 14th.
Our young adult ministry, Rooted, will also have a service on Maundy Thursday. The service will begin at 7:30pm at the McPherson Chapel up on the campus of Fort Lewis College on Rim Drive. Pastor Jeff will be there with our college students leading worship and sharing in Communion. All are welcome to join. Parking is free in the evening across from the chapel.
The Living Last Supper is also available for anyone interested in watching that! You can view that HERE!
On April 15th 12:00pm- 8:00pm join us as we remember the suffering and sacrifice of Christ with interactive prayer stations. This is an experience for upper elementary students, youth and all adults. It will include an adaptation of the Stations of the Cross. Move through the stations as an individual at your own pace. The experience can last from 20 minutes to an hour. Bring your bible and your journal. Contemplative Prayer Stations are interactive experiences with Scripture or devotional prompts. A simple, creative gesture can help us slow down and listen for what God reveals. The gesture likewise opens us to respond. For those who cannot join us in-person for our Prayer Room Experience we have a virtual Stations of the Cross posted HERE.
Please join us in person for our Easter services. Our Easter service times are posted above. Please note that we will be having a Sunrise Service starting at 7am on April 17th in our church parking lot. For this service we ask you to BYOC (bring your own chair). We will also have coffee and hot chocolate to keep you warm. Bring your chairs and blankets and join us for church at 7am! Our additional Easter Services will be Saturday April 16th at 5:30pm and Sunday April 17th at 9:00 am, 10:30am and 11:55 am.
Can't make it to the Easter service this year? Worried about being around so many other people? No problem! We're so excited to be able to give your household a high-quality, fun, and experiential Easter service! The service will become available starting Saturday, April 16 for you to watch whenever you want! The video will appear below when it goes live!
The Easter Service will be available on our youtube page, and right here on this page!
We will be providing childcare during the 5:30pm service on April 16th and the 9:00am and 10:30am services on April 17th. Children 3 years old through 5th grade are welcome to join our Summit Kids.
If you as a family wish to remain in the Sanctuary together, there are Pew Packets available to occupy fidgety hands. Ushers are available to assist you with either of these options.
For more information about childcare and our Summit Kids please visit this page.
Invite your friends and family to Easter!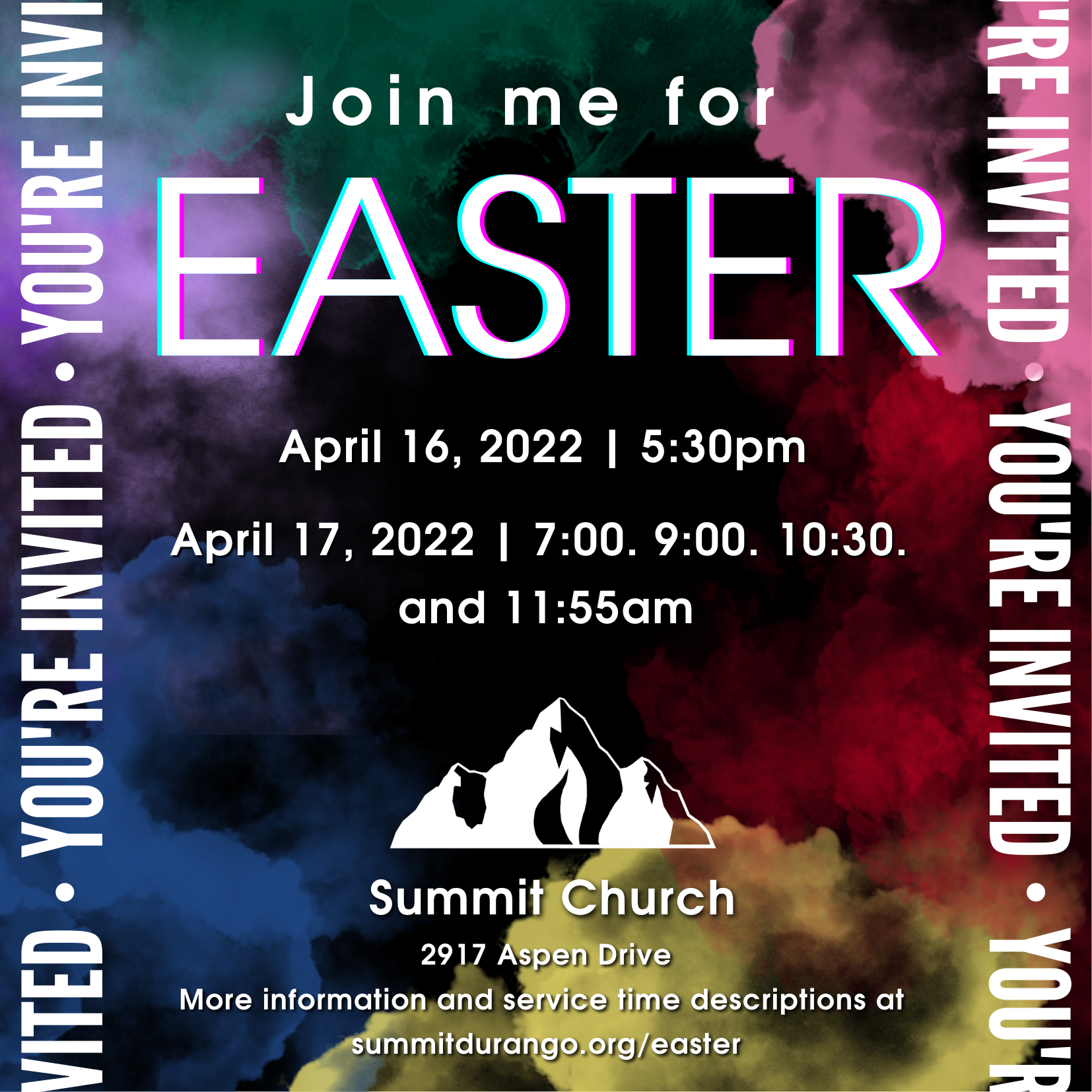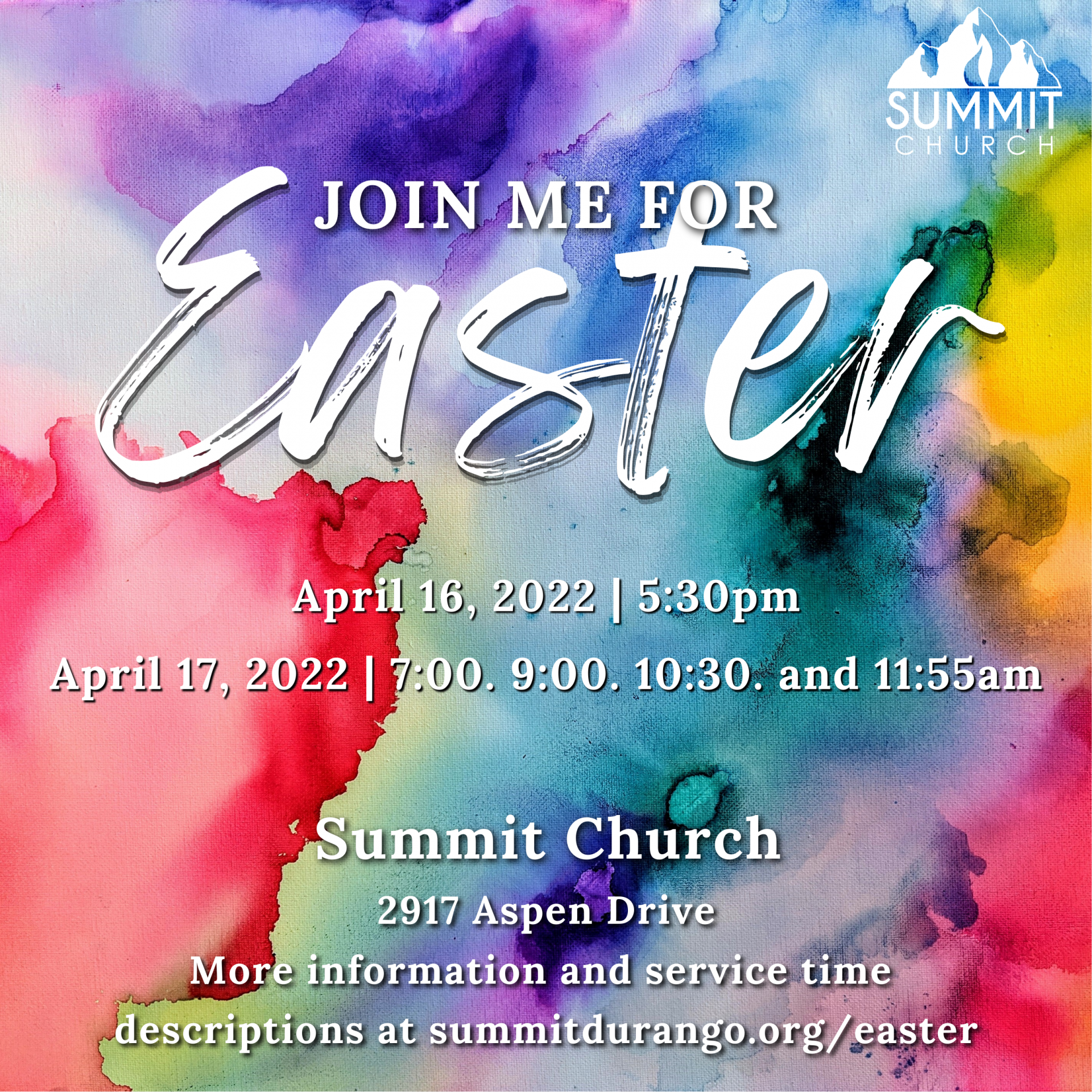 Is there anyone that you want to invite our Easter Service? We have digital invitations designed just for you. Download or screenshot the above image(s) and send it to your friends and family!
Step 1: Hold down the image to save to your phone or right-click and choose "Save as…" on a computer
Step 2: Send to someone who you'd like to invite to church this Easter and post on your social media.
Every year the Missions Finance Team of the church selects several organizations to receive the Easter Offering from you, the congregation. (You will need to designate "Easter Offering" on the check or giving page on the app and webpage for those who like to give online.) You can designate one of the organizations to receive your contribution or split it two ways.  Again, 100% of your designated offering goes to these great non-profit organizations. This year's Easter Offering campaign recipients will be the Shanta Foundation and The Hive. The Shanta Foundation is an international-focused organization based here in Durango. Their mission is to ensure all communities are healthy and safe, and individuals are free to flourish. The Hive is a local youth services organization that strives to provide an inclusive, safe space for youth and community members to develop and discover their true selves by providing passion-based exploration through creative expression, mentorship and leadership opportunities.